Lucky scooter just put out this wicked article check it out and find out what size bars you should be riding.
One of the most frequently asked questions by parents is "what height and width bars should I buy for my child"? Honestly there is no easy answer to this question; however that is not what most parents want to hear. I took the time to write up a suggested bar width/height chart that should help you to decide what size you want your bars. Check it out below. If you are a rider read my previous article on scooter bar height here
(Bar size is 100% preference & choice. The following are just my thoughts on it)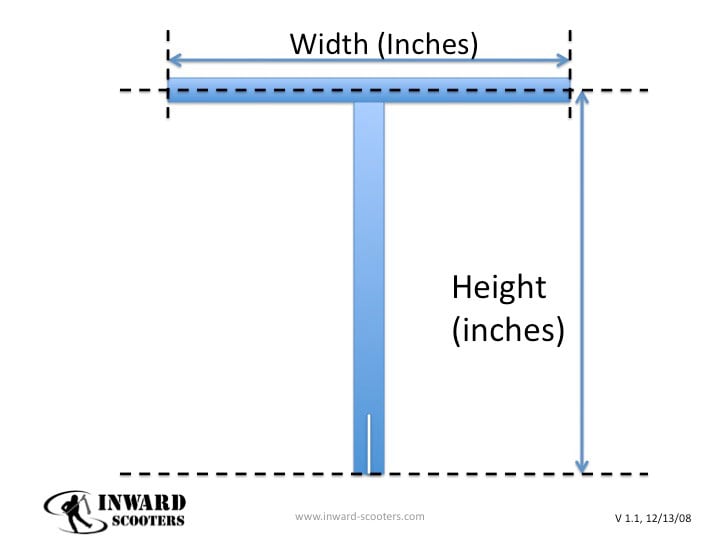 Alright lets start off with width. For bar width the best way to measure what would be right for you would be to measure your shoulder width. My shoulder width is about 20 inches and I ride 21" wide bars. This is a great way to measure how wide your bars should be. If your shoulder width is 18" you don't wanna go ordering 12" wide bars. They will look too small and feel too small. It's ok to order bars a little bigger than your shoulder width or a little smaller.
Width:
If you're 5ft or under, order bars 16" and under
If you're 5ft – 5'5" order bars 16-20"
If you're 5'5" – 6ft order bars 20-23"
If you're over 6ft order bars 23" or bigger
Alright now lets move on to height. Just like we used shoulder width to measure the correct bar width, we are going to use waist height to measure bar height. You want your bars to sit just below your waist so measure from the ground to your waist than order those height bars. When you stand on your deck your bars will end up sitting just under your waist. Like I said earlier everyone is different. Some people like taller bars and some like smaller because its easier to do tricks like bri flip. Its all up to the rider and what they want, although no one wants bars that sit right below there chest or bars that sit by their knees.
Height:
If you're 5ft or under, order bars 17" tall or smaller
If you're 5ft – 5'5" order bars 18 – 21"
If you're 5'5" – 6ft order bars 21 – 23"
If you're 6ft or over, order bars 23" or taller
What are the advantages to smaller/less wide bars?
Advantages to smaller bars include; easier to bri flip/scooter flip around, less total scooter weight, easier to fit in car.
What are the advantages to taller/wider bars?
Advantages to taller bars include; less back pain, less speed wobble, more comfort.
Final thoughts – so what bar dimensions should I order?  
In the end it all comes down to you and what you like to do most. If you just flow around and don't do too many tricks, taller bars might be better for you. If you love to do "park" style tricks like bri flips, finger whips, etc, than smaller bars might be better for you. I hope the two charts I made somewhat better help you decide what bar width and height to buy!